March 31, 2010
We then proceeded to Beijing Film Studios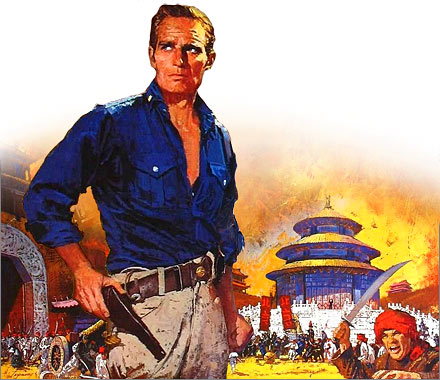 "...to be greeted by another delegation, the ritual similar to this morning except that after the tea, we had small, dubious sandwiches and rice wine, followed by a tour of the studio, which is like all other studios I've ever seen -- slightly out of date (considerably so, here) dusty and cluttered, repeated warnings not to trip on the cables I've been avoiding before the people who warn me were born.
Some of the sets from
The Last Emperor
are still standing...absolutely world class. On the back lot, some really fine exterior sets are now useless because the sky behind them is now studded with high-rise buildings. That happened a long time ago in Hollywood. It's curious how similar film studios are around the world."
Actor Charlton Heston in Beijing in 1988 while he directed an all-Chinese version of Herman Wouk's play "The Caine Mutiny Court-martial". Heston, Charlton. Beijing Diary. New York: Simon & Schuster, 1990.
[ed. note: on days when Sinomania! is unable to post meaningfully a random quotation relevant to China is offered.]
Labels: Sinomania
Subscribe to Posts [Atom]